All about Country Walking and Walking Books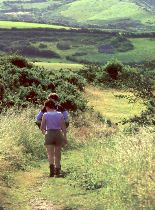 You are definitely in the right place if you are looking for a good selection of walking guide books. Easy site navigation by location will get you where you want to be quickly. Just click on Bookshop or here to get started. Wherever in the UK you are planning to walk we will give you the best choice of guide books to ensure you find the best routes. You can also find lots of information about walking destinations by clicking Locations, find out about Britain's fantastic long distance walks and our National trails by clicking Trails and also get details of walking festivals and events.
Walking in Northumberland
by: Vivienne Crow
Vivienne Crow has won the 2018 Outdoor Writers and Photographers Guild award for Best Guidebook. The judges commented on the book: "An eminently competent and trustworthy companion, a good introduction to walking in Northumberland and a welcome new addition to a competitive field."
We completely agree that this book is an excellent choice to exploring Northumberland on foot. It is well researched with informative and enjoyable well-written text. Vivienne has won awards for her books before and is definitely a master of her craft with a genuine love of the outdoors.
The book, published by Cicerone to their usual high standards, is well illustrated with colour photographs taken by Vivienne and includes Ordnance Survey 1:50000 scale mapping of the 36 walking routes.
For further information about the book, or to purchase from our bookshop at a discounted price please click here.
Three River Valley Walks in West Kent
by: Robert Peel
Walkers wanting to explore the long distance paths of Kent have an early Christmas present. A brilliant new book published by Kent Ramblers provides complete route descriptions of three valley paths in west Kent. These are:
Darent Valley Path - 20 miles
Eden Valley Walk - 15 miles
Medway Valley Walk - 28 miles
Previous paper guides for these three walks have long been out of print. Here in one volume is the opportunity to discover their delights and achieve the satisfaction of completing them all.
As well as detailed descriptions of the routes and full-colour mapping at a scale of 1:25,000, the book includes information about the many points of interest and much background material about the geology, geography and history of west Kent. The book is nicely illustrated with plenty of colour photographs. The routes are described in sections and information is provided for planning how best to undertake the walks.
For further information or to purchase the book from our bookshop CLICK HERE
Let's Walk the Cleveland Way
by: Stephen I Robinson
This new guide to walking the Cleveland Way is outstanding for the quality and detail of its full colour mapping. Each step-by-step navigation instruction in the text is numbered and includes a grid reference. Each of the step numbers are shown with arrows on the adjacent detailed map, so you always know exactly where you are.
The book is beautifully illustrated with colour photographs. The route is described in nine day walk sections and background information for each stage of the trail is included. Each section includes an introduction to the features of the days walk and an elevation plan is provided. There is also a general introduction at the beginning of the book and information on accommodation and planning. This book is a real contender for choice of guide when walking the stunning Cleveland Way.
For further information or to purchase the book from our bookshop CLICK HERE
Archive Features
Lets go down to the woods today - to see the bluebells
more info....
Clare Balding takes a walk on a Tea Trail
more info....
Two of our National Parks are Expanding
more info....
UK Parents Falling Short when it comes to Organising Active Family Adventures
Nearly 50% of UK parents admit they don't manage to take their kids on an 'active adventure' more than once every other month. more info....
Wild - the film for long distance walkers
more info....
Latest update on the England Coast Path
more info....
Primaloft wins award with Down Blend Insulation
more info....
The new Gustav Holst Way is a long distance walk through glorious North Cotswold countryside from Cranham to Wyck Rissington, via Cheltenham and Bourton-on-the-Water. Linking places associated with the composer this is an interesting new path.
more info....
New National Trails Website
more info....
Sir Chris Bonington appointed president of the OWPG
more info....

© Copyright 2000 - 2019 Walking Pages Ltd. and its associates. All rights reserved