Walking Festivals
Information for 2017 Walking Festivals
We are looking forward to the 2017 Walking Festivals and some organisers are already working hard planning their events and devising great walks. If you visited a walking festival in 2016 we hope you had a great time and will consider visiting one or more festivals this year. Although it is only January time flies and the keen planners amongst you may want to give some early thought to which festivals to visit. Although most dates for 2017 are not yet finalised the list of festivals in the box all took place in 2016 and most will probably take place again this year at similar dates.
Where 2017 dates have been confirmed we have provided currently available information below, although details of the walk programmes may still be in development. We expect most of the festivals will be repeated again but unless we have given firm dates this cannot be guaranteed. We will update as information becomes available.
Walk Islay Festival - 9 to 14 April 2017
The islands of Islay and Jura have something to offer everyone. Whether it's our famous whisky, spectacular wildlife, peace and tranquillity, music, beaches or heritage. You are certain to find something special that may entice you back again.
The walking festival on Islay lets you explore the natural beauty of places such as Killinallen with its white sands at Killinallan Point and views across turquoise waters to Mull, Colonsay and Skye's Cuillin's. There are also two RSBC nature reserves at Loch Gruinart and Oa, and the Three Distilleries Pathway. All of these can be enjoyed on the choice of ten festival walks.
Further information visit http://www.islayjura.com/view-details.php?id=535
Chepstow Walking Festival - 9 to 23 April 2017
A popular walking festival which is firmly established on the walker's map. Join us for 5 days of walking fun! Our fantastic walks programme has walks to suit all abilities and are led by experienced walk leaders who either live or work in the area.
The Lower Wye Valley is a designated Area of Outstanding Natural Beauty with a rich heritage and has such a lot to offer the walker with its variety of landscape. Chepstow is an accredited 'Walkers are Welcome' town which aims to provide the best possible walking experience.
The price is £5 for a single ticket or £10 for a Supersaver ticket which gives you the chance to join as many walks as you wish and includes transport and parking in Chepstow if applicable. Booking essential as places are limited. The full programme will be online by the end of January 2017 which will give details and information on how to book your place or get in contact.
For further information, visitwww.walksinchepstow.co.uk
Ulverston Walking Festival - 22 April to 1 May 2017
This year will be the 18th Ulverston Walking Festival and what better place to spend a few days exploring the southern fringes of the outstandingly beautiful Lake District and not far from Morecambe Bay with its sandy beaches and abundant wildlife. There will be the usual great selection of walks to suit all abilities which will allow you to experience the best of this beautiful area.
Many of the walks will be the same or similar to last year's programme with some new additions. Details of this year's walks will be available during February. Fees for the walks will again be at an amazingly low cost because the organisers do it for fun and just want to cover their costs.
For further information, visit www.ulverstonwalkfest.co.uk
Haltwhistle Spring Walking Festival - 22 April to 1 May 2017
Haltwhistle lies between the most spectacular section of Hadrian's Wall in the Northumberland National Park and the North Pennines AONB. The beautiful South Tyne valley runs southwards up into the hills. The Haltwhistle Spring Walking Festival is a well-established event which gets booked up very quickly. As usual the organisers have put together an excellent programme offering a wide variety of walks in this lovely area.
Every day there is a longer and a shorter walk. On four days there will also be a Special Interest walk. Longer walks include: West Hall Circular, 10.5 miles out in the west; West Allen to South Tyne, a strenuous 12-mile route from Whitfield to Haltwhistle; Colleges, Limericks and Swans, 11-mile circular from Edmundbyers.
Shorter walks include: Catton Circular with tea afterwards in the village hall; Lake, Linn and Burn; Around Broomlee Lough from Housteads.
For further information and to book visit the festival website
www.haltwhistlewalkingfestival.org
Settle Carlisle ride2stride Walking Festival - 25 April to 1 May 2017
ride2stride is a festival of walks, talks and music along the fabulous Settle-Carlisle railway line. It is a week-long celebration of the wonderful landscape and culture of the western Dales and Eden Valley.
The festival is made up of lots of events and activities and things will be happening along the length of the line. Walks will be led from stations by experienced walk leaders. Speakers will share their local knowledge and love of the area, and the pubs will be buzzing with music and song.
ride2stride is for everyone who loves the Yorkshire Dales. Whether you travel to an event by train, live along the line or book your holiday to take advantage of the festival, we're sure you'll have a great time.
Information and Booking Details www.ride2stride.org.uk
Talgarth Walking Festival - 28 April to 1 May 2017
This will be the fifth year the festival has been held. Close to Brecon, Crickhowell and Hay-on-Wye, Talgarth is an ideal base for visitors wishing to explore the Brecon Beacons National Park on foot, whether it's the high peaks or the lush green valleys of the Wye and the Usk which capture the imagination. Talgarth is a 'Walkers are Welcome' town and is known as the Gateway to the Black Mountains.
On offer will be a great range of walks from high level strenuous hikes to gentler strolls all taking in the glorious mountain scenery.
For further information and to book visit: www.talgarthwalkingfestival.org
Isle of Wight Walking Festival - 29 April to 14 May 2017
The Isle of Wight is a walkers' paradise. Sea breezes, big skies, springy downland turf, timeless villages; these are just a few of the pleasures that await you when you take part in the Isle of Wight Walking Festival. Over half the Island is designated as an Area of Outstanding Natural Beauty, with 60 miles of dramatic Heritage Coastline, unspoilt countryside and over 500 miles of well-maintained and signposted footpaths. The Island has an acclaimed reputation as one of the best destinations in the UK for walking pursuits and there is something for all ages and abilities.
This year the popular Isle of Wight Walking Festival returns as IsleWalk2017, with local and visiting walkers of all ages and abilities setting off on trails across the Island's picturesque landscape. Walkers will get up close and personal with the best of the Island's stunning scenery, as they journey from the beautiful chalky cliffs of the west coast to the lush green rolling hills of the east.
Information and booking details: www.isleofwightwalkingfestival.co.uk
Llangollen Walking Festival - 29 April to 1 May 2017

Walking in North Wales doesn't get much better than Llangollen, a beautiful Victorian Welsh border town with so much to offer the casual and the keen walker. The organisers warmly invite you to explore the town and landscape in the company of friendly local and professional guides who will share with you their knowledge of local history, heritage and folk tales whilst you walk through some of the most spectacular and mystical landscape in North Wales.
Join a short leisurely history walk each day in the company of a Green Badge guide in this UNESCO World Heritage Site. Jump aboard the heritage steam train for a nostalgic ride followed by a scenic valley meander or a high level wilderness walk. Visit the romantic medieval castle and abbey ruins plus stunning cliff walks for big views and moor. For the fitter walker, experience beautiful World's End and high moorland wilderness walks.
Further information and to book visit: www.llangollenwalkingfestival.co.uk
Alton Walking Festival - 29 April to 7 May 2017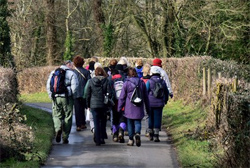 Alton Town Council has been hosting a Walking Festival since 2013, which has grown year on year as demand and interest has increased. This year they are delighted to offer an ever greater range of walks with over 20 walks spread across 9 days incorporating 2 weekends. They look forward to welcoming you to a range of guided walks that will give you the chance to explore the town and the beautiful surrounding countryside.
Whether you are looking to delve into the town's history, enjoy the local shops or are a keen walker looking to enjoy a day out in East Hampshire countryside, our programme will offer something for all ages and tastes. Our aim of this festival is to provide local residents to be able to actively engage with the event which is designed to promote healthy living. All walks in the programme must be booked in advance. Numbers are limited, so please book early to avoid disappointment. Closing date is 10 April.
For further information, visit:
http://www.alton.gov.uk/Walking_Festival_6410.aspx
Chesterfield Area Walking Festival - 6 to 14 May 2017
Enjoy the Chesterfield Area on foot, following a magical fairy trail at Creswell Crags, combining a walk with a boat trip along the Chesterfield Canal, or discover George Stephenson's connection with Chesterfield on a walk ending with a talk from George himself at Chesterfield Museum.
If you're looking for a challenge, try the Chesterfield Round Walk, a 34-mile trek through the countryside that surrounds the town. Or brave the Beast of Bolsover on a 20-mile circular hike. If that sounds all too much take an evening stroll of 5 or 6 miles, a short walk around the town or a family ramble of 2 or 3 miles.
Most walks are free and are led by a fully trained guide who knows the history, wildlife and the best countryside to walk through (as well as the best pubs to visit) in the beautiful Chesterfield landscape.
For further information, visit www.chesterfieldwalkingfestival.co.uk
Bishop's Castle Walking Festival - 13 to 17 May 2017
Bishop's Castle is a small market town surrounded by the wonderful Shropshire Hills Area of Outstanding Natural Beauty, near the Welsh border and off the beaten track. It is a welcoming place and a walker's paradise.
This year's eighteenth walking festival offers a great choice of five different walks every day, all beautiful, all guided by local people who know the area. They take walkers over wide open hilltops, through winding valleys, tiny hamlets and ancient hill forts and there are amazing views. Evening events round-off the day's walking.
Bishop's Castle is a friendly and welcoming market town with two breweries, six pubs, interesting independent shops and a well-established programme of festivals, music and arts.
For further information, visit the festival website:
www.walkingfestival.co.uk.
National Forest Walking Festival - 13 to 25 May 2017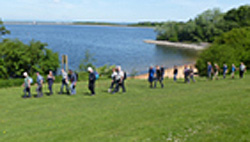 This festival will include 90 walks that range from gentle strolls to strenuous rambles including routes for seasoned walkers as well as pushchairs, wheelchairs and family groups. Every walk is graded for difficulty and guided walks are led by an experienced leader with local knowledge. Health walks are suitable for all ages and those recovering from illness and are also led by a trained volunteer.
This year's festival includes a number of walks linked to the 'Black-to-Green' initiative with the chance to see the amazing industrial legacy of the area and how it is rapidly reverting back to nature. You can also try the National Forest Way, with a circular walk taking in a section of the new long distance footpath, try Nordic Walking, or take an educational stroll or a long distance ramble. The 90 walks within the programme can be found throughout the 200 square miles of forest area across Derbyshire, Staffordshire and Leicestershire.
Further Information www.thenationalforestwalkingfestival.org.uk
Suffolk Walking Festival - 13 May to 4 June 2017
2017 marks the Suffolk Walking Festivals 10th Birthday and the organisers would love it if you joined in to help celebrate this wonderful event. There are over 100 walks on offer, providing the opportunity to explore the wonderful and diverse Suffolk countryside; stroll around medieval towns, ambles along the coast or wanders through our stunning countryside and enjoy the landscapes of two Areas of Outstanding Natural Beauty.
The Classic and Mega Challenge walks return, offering walkers the opportunity to explore the Stour Valley; a 63-mile route crossing the Suffolk countryside and dipping into Essex. Choose either to complete the route over a leisurely 4 days or if you really want to push yourself why not try it in 30 hours! With a variety of themed walks from Duelling Dragons in Sudbury, bird watching as you stroll around Westleton Heath or speed dating where you could meet new friends or partner. There is sure to be a walk that will take your fancy.
For further information, visit www.suffolkwalkingfestival.co.uk
Chilterns Walking Festival - 15 to 29 May 2017
New for 2017, the Chilterns Walking Festival invites people to explore the landscapes and locations of The Chilterns Area of Outstanding Natural Beauty, which covers the countryside from Goring in Oxfordshire to Hitchin in Hertfordshire. There will be seperate events for spring and autumn.
The spring festival offers an exciting programme of walks, talks and special events. Highlights include: Guided walking tours of Henley's Midsomer Murders filmed locations, bringing to life various plotlines and 'stand in their shoes' activities; Woodland walks around the Chalfonts, to explore the outdoor arts of bushcraft, foraging and bread-making; Boat cruises along the River Thames and walks along a 2 mile stretch of the Thames Path National Trail with a guide to point out sights and wildlife along the way; An Ancient Feast with a recreated Iron-Age menu; Opportunities to try out Nordic Walking or Electric Cycles; A walk along the Ridgeway taking in the landscapes and places painted by John Nash.
For more information, visit www.visitchilterns.co.uk/walkingfest
or on Facebook at ChilternsWalkingFestival/
Winchcombe Walking Festival - 19 to 21 May 2017
This year will be the eighth Winchcombe Walking Festival. In previous years there have been at least five walks to choose from, varying in length and difficulty from strenuous full day walks on the Cotswold Way to half-day walks, short, level health walks, an evening walk, and a historic town walk.
Winchcombe is set in the heart of the beautiful Cotswolds. It has a timeless quality about it which makes it an attractive centre for walkers. The town has "Walkers are Welcome" status which means it will endeavour to make your stay and experience memorable. Strolling along picturesque streets surrounded by cottages of golden yellow stone and hidden courtyard gardens it's easy to allow yourself to daydream that you've stepped back in time. The town is served by many footpaths coming off the hills, including the Cotswold Way National Trail.
For further information, visit: http://www.winchcombewelcomeswalkers.com/festival/
Trefriw Walking Festival - 19 to 21 May 2017
This year Snowdonia's premier Walking Festival sees another packed 3-day event, with some of the activities reflecting 2017 as the Year of Legends in Wales. Walks include The Legends Trail, A High Mountain Walk in the Carneddau, The Owl of Cwm Cowlyd and The Sleeping Lady.
The beauty of Snowdonia National Park provides a dramatic backdrop to a programme of exciting activities for all the family, along with the return of some of your favourite walks. Booking will open on 15 March.
For further information, visit www.trefriwwalkingfestival.co.uk
Isle of Arran Mountain Festival - 19 to 22 May 2017
An opportunity to meet like-minded people, discover a fascinating island and have unforgettable days in the safe hands of experienced local leaders.  With names to inspire the imagination, such as Ceum na Caillich (Witch's Step) Caisteal Abhail (Castles) and the Sleeping Warrior, the mountains of Arran are some of Scotland's most amazing landscapes. From wildlife-watching walks along the island's coastline to airy scrambles on towering granite ridges. Scottish hillwalking at its best!
Arran is one of the most accessible of the Scottish islands, with good transport links by ferry, road, rail and air.  At the end of an exhilarating day in the outdoors, there are plenty of hostels, hotels, cottages and campsites for comfort and relaxation. Arran Mountain Festival is Scotland's premier hillwalking and mountaineering festival.
There are 20 walks planned over the four days of the festival. All the walks are described in detail on the festival website, together with all the information you require to plan a trip to this stunning area. Places are limited and many walks fill quickly. Booking is now open.
For information and booking visit http://www.arranmountainfestival.co.uk
Lincolnshire Wolds Walking Festival - 20 May to 4 June 2017
The Lincolnshire Wolds is a great place for walking and to explore this fascinating Area of Outstanding Natural Beauty. This year is the thirteenth Festival and 100 walks are being planned.
The programme of walks is designed to suit all abilities; whether you haven't walked for ages or you are a sturdy regular rambler, or you simply need a walk that is pushchair or toddler friendly, there are walks just for you. Stretching over the Lincolnshire Wolds character area with views of the River Humber in the north and The Wash in the south, the Lincolnshire Wolds Walking Festival celebrates the varied terrain of the East Lincolnshire landscape.
For booking or further information visit www.woldswalkingfestival.co.uk
Llanelli Walking Festival - 26 to 29 May 2017
Llanelli Ramblers organise and host the Llanelli Festival of Walks which is an annual event that has attracted hundreds of visitors to the town since its beginnings in 1995 and has established Llanelli as a popular centre for walking.
The main theme of the 2017 Llanelli Festival is Welsh rivers and other waterways.  There is a choice of 15 walks to suit all ages and abilities, in areas including the Welsh valleys, Gower, Pembrokeshire and, of course, Carmarthenshire. The Festival ends on Bank Holiday Monday with the ever-popular traditional Welsh tea.
For further information, visit the Festival website www.llanelliramblers.org.uk
Malvern Hills Walking Festival - 27 May to 4 June 2017
The beautiful Malvern Hills are the jewel in the crown of this Area of Outstanding Natural Beauty. This festival offers nine days of themed walks on and around the Malvern Hills and an opportunity to enjoy some of breathtakingly beautiful views in the company of others.
Friendly guides to both lead the way and indicate points of interest you may normally have missed. Walks are planned to appeal to families as well as serious walkers. Most walks have some value to walkers who are also interested in natural history, local history and the geology of this beautiful area. Challenging walks include the Malvern Hills End-to-End walk and back and several multi-day walks including the Wye Valley, Wyche Way and the Geopark Way.
For further information, visit www.malvernwalking.uk
Corby Walking Festival - 29 May to 4 June 2017
The Corby Walking Festival is in its ninth year and celebrates the wealth of walking opportunities in and around the borough of Corby, situated within the stunning countryside of the Welland Valley and Rockingham Forest in the county of Northamptonshire. The town itself is surrounded by 8 picturesque villages and the whole area has a rich steelmaking heritage.
A walking programme is offered with a variety of led walks to suit all interests and fitness abilities. Everyone can experience the enjoyment of walking with no charge, whether they live in the town or villages, courtesy of the Festival.  Whether you're a complete walking novice, interested in local history, photography, wildlife, or just want to challenge yourself with one of the long distance routes, there's something for everyone to enjoy.
For further information and to book visit the festival website www.corbywalkingfestival.org.uk
Angus Glens Walking Festival - 1 to 4 June 2017
The beautiful Angus Glens and surrounding countryside host the 15th anniversary of the Angus Glens Walking Festival. Twenty spectacular walks over 4 days, through breath-taking scenery, including open moorland, heather-clad hills, mountains, rivers, corries and crags.
Mountain Leaders, Countryside Rangers and Estate Managers with excellent local knowledge, will guide your walks and share their knowledge of local history and wildlife along the way. Popular walks include Jock's Road and Scotland's Oldest Right of Way. You can also enjoy a Munro, try Mount Keen, Broad Cairn, Tom Buidhe, Driesh and Mayar. The festival programme offers a range of options to entice new walkers of all abilities to enjoy outdoor rambling as well as daily heightened challenges for experienced walkers.
For further information and booking visit: www.angusglenswalkingfestival.com
Kendal Walking Festival - 2 to 4 June 2017
Sheep and their wool have been significant strands in the rich tapestry of Kendal's social and economic history. They have also helped to shape the hills and valleys of the wonderful landscape in which the town is situated.
From the nearby Kentmere Valley where our River Kent starts its journey to the sea just a few miles away, and in the not-too-distant Lake District Fells and Yorkshire Dales countless countryside walks along footpaths, bridle paths and sheep trails are accessible to young families, enthusiastic ramblers and hardy fell walkers alike.
This is the first walking festival organised by Kendal, so why not join them and explore this wonderful town with its roots embedded so deeply in the landscape that surrounds it. With 23 events over the three days It has something for everyone regardless of their walking capabilities including a walk around Doodleshire and an appearance by that fell walker of old, Alfred Wainwright.
For further information, visit the Visit Kendal Website at
https://visit-kendal.co.uk/discover/outdoors/kendal-walking-festival/
and also on the ticketing website
Corsham Walking Festival - 9 to 11 June 2017
The fourth Corsham Walking Festival will be offering 18 walks to suit all abilities, including a fully accessible walk, wheelchair friendly, therefore suitable for all. Walks vary in distance from 1.5 to 19 miles including some new walks and fine-tuning some others. The lovely medieval town of Corsham, founded on weaving and stone quarrying, is at the very edge of the Cotswolds between Bath and Chippenham, and at the very heart of the Walking Festival.
Experts will talk about specialist subjects en route to offer walkers information, as well as experienced walk leaders to guide you. There will be walks for a range of interests and abilities, Quarrying, Geology, Railways, Natural History, plus a Children's Free Treasure Hunt and a "Mindfulness" Walk, plus evening entertainment.
For further information, visit the website
www.corshamwalkingfestival.org.uk
Brochures will be available from the start of April and on line via the website.
Trigaron 17 Walking Festival - 16 to 18 June 2017
2016 was the 80th anniversary of the trig pillar, so Tregaron Walking Club have devised five routes to five different trig pillars (the highest being 541m) around the Cambrian Mountains town of Tregaron in Ceredigion. As an added bonus you'll be able to sleep under the stars next to a trig pillar on the Saturday night, coming down on Sunday morning for a well-earned Welsh breakfast at the award-winning Y Talbot.
The walks commence from Tregaron (of elephant buried in the beer garden fame), Llanddewi-Brefi (of Little Britain fame), Blaenpennal (of Sali Mali fame) and Pontrhydfendigaid(of Strata Florida fame) providing walkers with a variety of routes and experiences and a wonderful weekend of walking. Twitter hashtag #Trigaron17.
Tregaron is a 'Walkers are Welcome' community and the festival is once again working with local businesses to provide a genuine warm Welsh welcome. The routes will include those recently maintained by Tregaron Walking Club volunteers who are part of Ceredigion County Council's Adopt a Path Scheme.
For further information and a downloadable booking form visit:
www.clwbcerddedtregaron.site
Herefordshire Walking Festival - 17 to 25 June 2017
This festival offers nine days of glorious summer walking. The Wye Valley walk is a favourite among the long distance footpaths and this year the festival is featuring the route through Herefordshire, divided into four sections, two on each weekend of the festival. The organisers have done the organising for you with transport included in the ticket and there is an accommodation package available if you are coming from further afield.
There will be a wide variety of walks for all to enjoy, old favourites & new ideas. What better way to explore the delights of Herefordshire than in the care and comfort of friends? The organisers are in the process of putting it all together for you to enjoy.
For further information, visit www.walkingfestival.com
White Cliffs Walking Festival - 24 to 30 August 2017
This festival is now in its fourth year and is becoming the walking event of the year for the South East of England. Centred on the historic towns of Dover, Deal and Sandwich, this week long festival, run by the local Ramblers group, features over 40 walks ranging in length from 1 to 32 miles.
The event attracts over a thousand happy walkers each year from UK and worldwide visiting this historical area. Walks for all abilities and interests, including family walks, historical walks, wildlife walks, smugglers walk, challenging walks and a three-day trekking walk.
Whatever your walking ability or interest, this event offers walks that will tempt you out to discover beautiful coastal and nearby countryside. Bring the children and join the smugglers walk or immerse yourself walking among the fascinating military fortifications. A few special guided walks cost a modest £2. A voluntary contribution is appreciated for all other walks.
For further information, visit: www.whitecliffswalkingfestival.org.uk
Corwen Walking Festival - 2 to 3 September 2017
The area around Corwen is in the Clwydian and Dee Valley Area of Outstanding Natural Beauty making Corwen a fantastic venue for a walking festival. This is a wonderful base for walking enthusiasts as it offers walks from the town that suit all levels of walking. From walks around Corwen itself finding out about the history of the Town to a high level ridge walk along the Berwyn reaching over 800 metres in height the Corwen Walking Festival has it all.
There will be guided walks on both days and you have the choice of doing a full day walk and with some of the shorter walks you could do one in the morning and one in the afternoon. There will also be some evening skills lectures and entertainment in the town.
For further information visit www.corwenwalkingfestival.co.uk
Gillingham Walking Festival - 2 to 10 September 2017
Gillingham Walking Festival aims to highlight the beautiful surrounding countryside, rare wildlife and local history, with over 20 walks, from short themed walks to longer rambles and social events. Explore the hidden gems of the town or tours of the local history, industrial heritage, rich wildlife and riverside walks. Enjoy our gently rolling farmland and explore our medieval Royal Forest. Gillingham, Dorset gained accreditation to the national 'Walkers are Welcome' Towns network in 2015.
For more information, visit the website:
http://gillwalkersarewelcome.btck.co.uk
Bedfordshire Walking Festival - 9 to 17 September 2017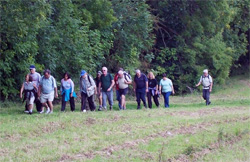 This year will be the ninth annual festival, now an established fixture in the Bedfordshire calendar. No detailed information is currently available, but usually there are walks for almost every ability level. Short 1 to 2 mile health Walks, 3 to 4 mile ambles and special interest walks. Rambler led walks for more serious walkers ranging from 5 to12 miles and for people who like a challenge the Greensand Ridge Challenge two-day hike along the Greensand Ridge is to take place on the 16th and 17th of September. All walks are led by experienced leaders
Bedfordshire may be a small county but has a varied and interesting landscape. The rural north likened by some to the "Wolds". The wooded and most varied middle with excellent ridge views and the Chalk Hills of the South together with interesting towns and villages plus well marked, and generally a well maintained footpath network makes Bedfordshire ideal for walking.
For further information visit: www.bedswalkfest.co.uk
Blairgowrie Walking Festival - 15 to 17 September 2017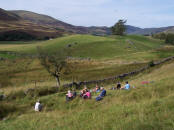 This established festival is really designed for serious and experienced hill walkers. Each walk is linear and the organisers provide minibus transport from the event meeting area in Blairgowrie Wellmeadow. The linear walks make interesting and challenging trips that are not easy to do without multiple car journeys. The flagship-walk this year is the Lairig Ghru, a stunning and scenic long distance trek which will be done (wind permitting) from north to south.  In addition, the festival offers a range of less demanding walks on parts of the Cateran Trail and surrounding areas.  All walks are led by qualified guides.
For further information visit: www.walkingfestival.org
Barmouth Walking Festival - 16 to 18 September 2017
This Walking Festival is a well-established annual event which takes advantage of the fabulous walks and dramatic landscape accessible from Barmouth, on the west coast of Wales. Taking place in September every year, the festival gives walkers of all abilities the opportunity to enjoy guided walks around the beautiful Mawddach Estuary and Southern Snowdonia.
This year there are 10 walks planned including a full day walk along both sides of the Mawddach; Rhinog Fawr from Cwm Nantcol; Llyn Gwernan and Cader Idris foothills; Barmouth Historical Trails; Barmouth to Dolgellau; Eisingrug towards Cwm Bychan; Tal-y-Llyn to Dinas Mawddwy; Y Garn from Llanelltyd via Cwm Mynach.
Further information and to book www.barmouthwalkingfestival.co.uk
Kington Walks - 21 to 24 September 2017
Kington Walks festival returns for its sixth year, already a firm fixture for all who love the great outdoors and enjoy walking festivals. Kington sits on the frontier between the green and pleasant land of Herefordshire, famous for apples, beef and beer, and the wild uplands of Wales. It is perfect walking country for the tough and the lazy alike. Bracing ascents alternate with strolls to ancient pubs drowsing by rapid rivers, and the views are sublime. More long-distance paths converge on the town than almost anywhere else in the UK.
The organizers are putting together an exciting and varied program for 2017 to include some walk repeats from previous festivals as well as some brand new ones. The program promises again to bring a range of walks and events to suit all tastes. Full details of the 2017 program will be on the website by the end of April, with the brochure being available in late May.
For further Information, visit: www.kingtonwalks.org
Ross-on-Wye Walking Festival - 22 to 24 September 2017
There are fifteen varied walks being planned for this festival, now in its ninth year, offering the chance to explore this beautiful area. Some walks include additional activities such as a ride on a steam train, a lunch cruise on the river Wye or a sumptuous farmhouse cream tea.
The town of Ross-on-Wye has a splendid setting within the Wye Valley AONB overlooking the River and dominated by the beautiful slender spire of St Mary's church.  Ross is an ideal location for walking with plenty of local accessible paths and, used as a base, it is within easy reach of the Malvern Hills, the lower Wye valley, the Forest of Dean and even the Black Mountains of Wales.
For full details and how to book visit the website
www.rosswalkingfestival.co.uk
Sidmouth Walking Festival - 23 to 29 September 2017
Come along to this festival for a fabulous week of free guided walks and discover the wonderful scenic coastal walking around Sidmouth and the hidden gems of East Devon.
There are three walks each day; shorter special interest expert led walks, circular walks which take in our seaside towns and beautiful countryside, and the East Devon Way linear walks. Five daily walks cover all of the 40 mile East Devon Way, walking from Lyme Regis to Exmouth through East Devon Area of Outstanding Natural Beauty. For these walks there is coach transport from Sidmouth to take you to the start and collect you at the end each day. There is a charge for the coach travel.
All walks are free of charge and must be booked in advance through the Sidmouth Tourist Centre 01395 516441 email: ticinfo@sidmouth.gov.uk
For further information, visit the following websites.
www.Facebook.com/sidmouthwalkingfestival
www.visitsidmouth.co.uk
Cowalfest Walking Festival - 6 to 15 October 2017
Cowalfest offers a ten-day Walking and Outdoors Festival, one of the largest and most varied walking festivals in Scotland, with more than 60 walks led by expert and knowledgeable walk leaders. All ages and abilities are catered for and the walks cover interest areas of wildlife, bird watching, drama, photography, art, history, heritage, folklore, tai chi, great gardens, great houses and some great hill walks.
For further information and booking visit www.cowalfest.org
Festivals Completed for 2016 (not yet confirmed for 2017)
Berwick-upon-Tweed Walking Festival - 2 to 5 April 2016
Ironbridge Gorge Walking Festival - 30 April to 8 May 2016
North Devon and Exmoor Walking Festival - 30 April to 8 May 2016
Hertfordshire Walking Festival - 1 to 31 May 2016
Bristol Walking Festival - 1 to 31 May 2016
Hawick Walking Weekend - 28 to 30 May 2016
Moray Walking Festival - 16 to 26 June 2016
Conwy Summer Walking Week - 1 to 10 July 2016
Tomintoul and Glenlivet Walking Festival - 25 to 29 August 2016
Scottish Borders Walking Festival - 4 to 10 September 2016
Pateley Bridge Walking Festival - 22 to 25 September 2016
Richmond Walking and Book Festival - 24 September to 2 October 2016
South East Cornwall Walking Festival - 10 to 16 September 2016
South Lincolnshire Walking Festival - 24 September to 30 October 2016
Swanage and Purbeck Walking Festival - 17 to 25 September 2016
Wellington Walking Festival - 12 to 18 September 2016
Yorkshire Wolds Walking Festival - 10 to 18 September 2016
Bollington Walking Festival - 24 September to 2 October 2016
Haltwhistle Autumn Walking Festival - 1 to 9 October 2016
Mondean Walking Festival - 1 to 9 October 2016
Crieff and Strathearn Drover's Tryst - 8 to 15 October 2016
Isle of Wight Autumn Walking Weekend - 21 to 24 October 2016
New Forest Walking Festival - 15 to 30 October 2016
Walk Scilly Autumn Weekend - 13 to 17 October 2016
Redcar/Cleveland Winter Festival 30 January to 5 February 2017
Crickhowell Walking Festival - 25 February to 5 March 2017
Boscastle Walking Week Festival - 26 to 31 March 2017
Walk Scilly Walking Festival - 1 to 7 April 2017
Follow us on Twitter for festival news and special offers


© Copyright 2000 - 2017 Walking Pages Ltd. and its associates. All rights reserved