Cardigan Bay Coast Path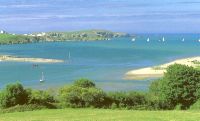 This long distance coastal path has been devised by the guidebook author and aims to follow the Welsh Ceredigion coast from Cardigan in the south to Borth in the north, a distance of 60 miles. When this route was conceived there was not a continuous right of way along the whole coastline, but thanks to the Ceredigion Coast Path Project the situation is changing and the current edition of the guide has been updated to reflect changes on the ground.The route now forms part of the Wales Coast Path.
The route is an adventure. A challenge in parts, and easy as pie in others. This is a relatively unexplored part of the Welsh coastline, but boasts internationally important marine wildlife, stunning landscapes, picturesque villages and warm welcomes. The ideal way to explore this route is to follow the recommended 6 day itinerary, which allows for a fairly relaxed walk with plenty of time to explore the sea shore, countryside and towns and villages along the way. This itinerary also ensures that you end up each evening at a village or town with accommodation and refreshments. Overnight stops, including the beginning and end of the walk are Cardigan; Aberporth; Llangranog: New Quay; Llanrhystud; Aberystwyth and Borth (Ynyslas).
Each of the overnight trail heads is served by a regular bus service, although there is less choice during the winter months. This means that the route can be tackled as separate day trips over a period of time, but we feel that this is a less satisfactory option unless your intention is to just sample one day stage of the route.
Follow us on Twitter for news and special offers


© Copyright 2000 - 2013 Walking Pages Ltd. and its associates. All rights reserved