Three Choirs Way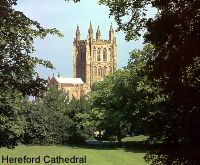 The Three Choirs Way provides a long distance footpath between Gloucester, Hereford and Worcester, with a theme linking the walk and the Music Festival celebrated at the three Cathedrals for over 300 years. Each year one of the three Cathedrals takes it in turn to host the festival. The Three Choirs Festival arose, partly, from the close proximity of the three cities which has resulted in close cultural ties between them. The Three Choirs Way serves to strengthen and promote those links, by providing a glorious walk of 100 miles through the attractive and varied countryside of the three counties, evoked in the old adage 'blessed is the eye between Severn and Wye'.
Although the route commences at Gloucester in the guide, you could obviously start at any convenient point. From Gloucester the route heads west through the village of Tibberton and, after passing Newent woods, heads north to Kilcot through lovely woodland. After passing through Dymock Wood along part of the Daffodil Way the route crosses farmland to Much Marcle. From here the route heads for Woolhope followed by a further peaceful section through Haugh Wood. From Mordiford the path follows the River Lugg and then the River Wye into Hereford.
From Hereford the route heads north east for Worcester via Withington, Ocle Pychard, Much Cowarne and Stanford Bishop, passing through a peaceful pastoral countryside with some fine views. The Way crosses the River Teme at Knightwick, passing into Worcestershire and then climbs Ankerdine Hill and drops down to Broadheath and Worcester. From Worcester the route follows the Severn Way south for a couple of miles before heading off south west for Callow End and Malvern Link at the northern end of the Malvern Hills ridge. There follows the magnificent section walking the Malvern Hills Ridge with stunning views east across the Severn Vale to the Cotswold escarpment and west to Herefordshire. After Chase End Hill, the most southerly of the chain, the Way passes through Pendock, Staunton and Ashleworth on its final leg back to Gloucester.
Follow us on Twitter for news and special offers


© Copyright 2000 - 2013 Walking Pages Ltd. and its associates. All rights reserved